FREE ONLINE EVENT: Friday 24th July | 5.30pm
CWO Cambridgeshire is hosting this event on Period Poverty
Manjit Gill, CEO and Founder of Binti, "Every girl deserves dignity. Period", joins CWO Cambridgeshire Area Chairman, Ruth Betson and Area Deputy Chairman, Poppy Simister, to discuss the charity's vision of how we can create a world where all women have menstrual dignity.
Manjit has over 20 years of business expertise under her belt and has been involved in 7 startups prior to Binti. Her flair for finding opportunities has taken her around the world and she has international experience in the business arena. Her role as a mentor for a business woman in Kenya with the Cherie Blair Foundation led her to start this project. Her mission is to create a huge, social impact whilst generating a sustainable organisation. As a British Indian, providing basic menstrual rights for women in India has become her obsessive, compulsive dedication to making a change.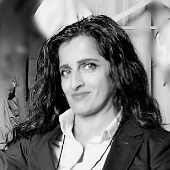 The charity's mission is:
To improve access to hygienic sanitary products for women around the world, either by training them to make their own pads or by facilitating access to pads.
To educate girls about the menstrual cycle, so that they understand what to expect when they begin their periods, and how to care for themselves during menstruation.
To advocate for the normalisation of menstruation, and fight against the myths and stigma around it that persist across the globe.
Questions can be sent in advance to Area Chairman Ruth Betson on betsonruth@gmail.com
Book Event