Free Online Event: Friday 13th November 2020 6:00-7:00pm
From Baghdad to Her Majesty's Government – Nadhim Zahawi is the MP for Stratford-on-Avon and has been Stratford-upon-Avon's MP for 10 years. In July 2019, Nadhim was appointed as the Parliamentary Under-Secretary of State for Industry.  He came to the UK with his family fleeing from Iraq at a time when Saddam Hussein was in power. He became the co-founder of YouGov, the internet based market research firm and is reported as being the 2nd highest earning MP in the UK.
Hear his inspiring story and also your opportunity to ask questions.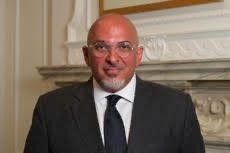 Questions can be submitted in advance to Neeti Gupta on cwoforums@conservativewomen.uk.
Book Event